Jeremy Del Rio proudly represented Thrive Collective marching with Mayor Bill de Blasio at the 60th Anniversary National Puerto Rican Day Parade on June 12, 2017.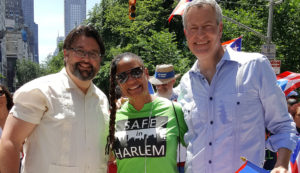 The festivities rounded out a surreal month showcasing Jeremy's unique multiethnic heritage. Equal parts Norwegian and Puerto Rican, his maternal viking grandparents immigrated from Norway and paternal grandparents came from the Island of Enchantment. Their children met and fell in love in Brooklyn, qualifying their sons forever as New Yorkers.
On May 21st, Jeremy served as Grand Marshal and keynote speaker for the 60th Anniversary Norwegian Day Parade in his home neighborhood of Bay Ridge, Brooklyn, where his Norwegian grandparents settled 80+ years ago. On May 28th, he spoke at the Loisaida Festival celebrating the Puerto Rican culture of the Lower East Side, the community where his parents live and which birthed Thrive Collective. Now the Puerto Rican Day Parade.
This isn't the first time Thrive Collective has embraced this uncommon cultural legacy. In 2014, two mural collaborations between McKinley Junior High School and the Norwegian Home, and Progress High School and the Borinquen Plaza Senior Center, resulted in immigration-inspired murals at senior facilities in the two Brooklyn neighborhoods where Jeremy's grandparents settled.