Hip Hop Cajon (percussion) workshop for children at NYPL Bronx Eastchester branch.
Our city's libraries are engines of opportunity! Cultural institutions contributing to the vitality of our city. We're absolutely thrilled to partner with the NYPL to serve our neighbors through the arts.
Recently, Randy Mason, our NY Director (and R.H.Y.M.E Director) facilitated a Hip Hop Cajon (percussion) workshop and performance for children ages 6-13 at the NYPL Bronx Eastchester Branch in his neighborhood. Attendees learned all about the Cajon drum, an Afro-Peruvian percussion instrument via a rhyming children's story by Randy Mason titled "A Book About a Box" (Not yet published. Coming soon!) Attendees participated in a beginners percussion lesson on the Cajon, created original lyrics to rap or sing along to their Cajon beat, danced, played music games and experienced a rap and Cajon performance by Randy Mason.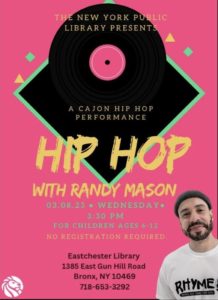 "Best rhymer in Bronx NYC!" – Youth participant
"I heard a lot of amazing things and the community absolutely loved it!" -Stephanie Rojas Library Manager
Look out for more Thrive Collective R.H.Y.M.E x NYPL collaborations coming soon.
Feature photo by Daniel Kwak // Flyer photo by Eric Mason