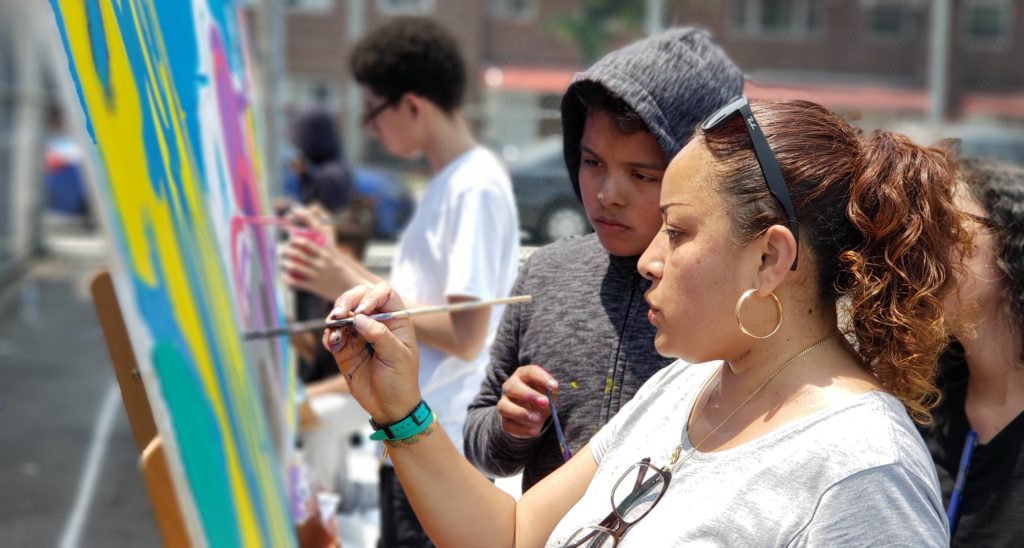 "Bronx Legacy" explores both the cultural legacy of The Bronx and its contributions to science and technology through iconic institutions such as: the NYC Botanical Gardens (botany), The Bronx Zoo (zoology), the revitalization of the Bronx River (ecology), and Yankee Stadium and borough bridges (engineering and architecture).
We once again had the pleasure of collaborating with longtime Thrive partner and renowned artist Toofly for a workshop intensive at the new Bronx Urban Community Magnet School. Toofly focused on distinctive features of the Bronx such as Yankee Stadium and the botanical gardens, and also the Bronx's deep-rooted hip hop legacy, which she felt was important to stress to students in the era of Soundcloud and iPhones.
"Our first class that took two days was about the legacy of hip hop culture in the Bronx. The reason that I particularly chose that theme is that … I'm from hip hop culture. I've done various workshops on it, and so I'm able to share a lot more information.

A lot of the history they had no idea of, which is kind of crazy in our time because we have the internet and it's a huge information hub! … A lot of them have no idea what a vinyl record is, or a boombox. Of course, we feel old when that happens! But the thing is, it's nice for them to understand that they wouldn't have the iPod if it wasn't for all this engineering that happened from record players, to a boombox, to CD's, and then the iPod. So it's nice to make that connection, and then bridge it to other things like how DJ Kool Herc is the godfather of hip hop.

When I would ask them, "Who do you know in hip hop?" they'd say, "Drake!" It's like Drake is this new generation but of course he wouldn't be Drake if we wouldn't have had all these influences in hip hop. So I try to find ways to bridge it so that they could understand and by doing these visuals they understand what it looks like. We will talk about what it feels like or if someone in their family has a item. And of course designs like fashion and style are a big thing in New York and hip hop so I really feel like we got a lot of that in the project and fun painting.

They had already worked with spray paint with TATS Cru so we focused on brushwork and more illustration. So instead of big, fill-in shapes they really got a chance to draw whatever they wanted. Of course I have them a layout but then they were able to add in their own elements."
German, a student and hip hop history buff, sees this legacy and the Bronx legends of it as inspiration for kids like him growing up in where they did years prior.
"I've definitely learned techniques to use paint and about how it can be used with the different styles of painting. In our mural, we have a lot of celebrities and different genres of music, like jazz and the different types of hip hop music… In murals you can have a lot of different ideas. It's basically a huge story that we are telling with just one picture that's not even moving. The legacy of hip hop has influenced me a lot, seeing that you can be at the bottom of the road and go all the way to the top of the mountain with just a few lyrics. It's pretty amazing how the Bronx created this type of genre and now the whole world knows what this is."
Principal Richard Hallenbeck also sees these artists as role models for his students.
"The thing that made the project really come to life was the fact that we could get artists from the Bronx. We wanted our kids here to have role models that they could aspire to be so to actually have artists that lived/ grew up/ are from the Bronx was incredibly inspiring and motivational, so that's how it call came together but also it's not just art that we're purchasing to make the school look nicer; it's something that the kids helped create… Every kid has something that will light them up and our job is to try to expose kids to everything so that they can find that think. Then that passion will get them through all the other stuff so they can become the best version of themselves…"
Final photos of the installed panels coming soon. In the meantime, enjoy the process shots.
IS 123X: Toofly (2018)