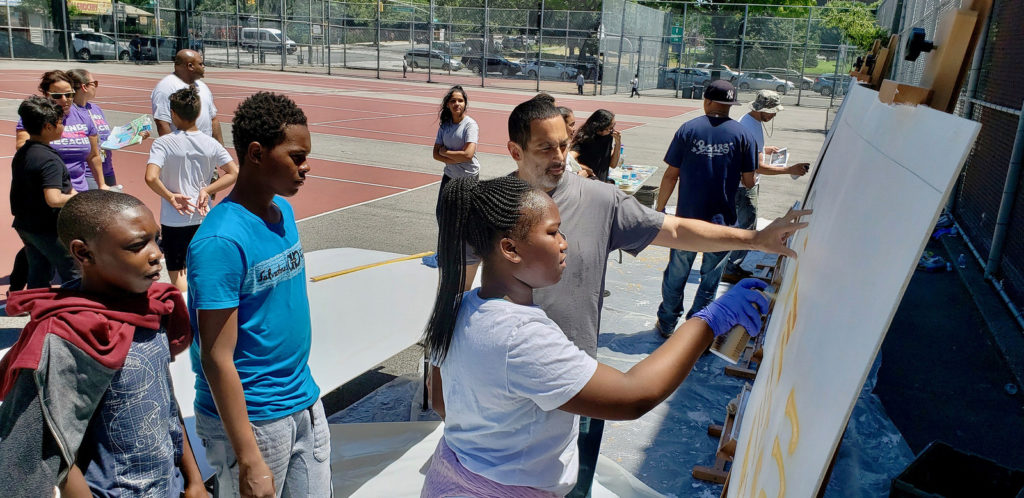 Our students create with the best. The legendary TATS Cru crushed it with students from JHS 123 / The Bronx Urban Community Magnet School in Soundview, where they grew up and started making murals in the early 1980s. Thank you BIO, Nicer, and BG183 for embracing our students and the opportunity to elevate their sense of possibilities with the "I Am The Bronx" school mural.
TATS Cru taught basic can control and graffiti techniques, and integrated student ideas and drawings to create a mural celebrating the Bronx Community and the great people who have come from it. In interpreting the theme, the students explored how being from the Bronx influences their identity, and how their presence in the Bronx help the Bronx evolve and change.
The mural highlights two Bronx luminaries, Associate Justice of the US Supreme Court Sonia Sotomayor, who grew up in Soundview; and Dr. Neil deGrasse Tyson, who arguably is the most influential US scientist of his generation, grew up in the Bronx, attended Bronx public schools, graduated Harvard and Columbia, and is now the astrophysicist director of the Hayden Planetarium. He also hosts a PBS show and is a dynamic advocate for integrating arts and science education.
Serita Mattei, the Assistant Principal of IS 123X, commented on the difference the workshop made in some of her students:
"There were two students in particular in our sixth grade who were working with TATS Cru on the first day. As the AP of instruction, trying to figure out ways to engage students who feel disengaged or feel like school is not really the most exciting place for them, I've been racking my brain all year trying to get these two students in particular to be engaged and excited about something. And to see them working with TATS Cru and leaving the experience saying 'You know, I think I want to be a muralist.' He did his sketch and he was so proud to share that and it was really one of the first times that I'd seen him engaged and smiling. For two consecutive days, we asked me 'Hey are we going to do this?' and was actually proactive about trying to get out there. That was really exciting to see."
Final photos of the installed panels coming soon. In the meantime, enjoy the process shots.
IS 123X: TATS Cru (2018)