On Saturday, June 30th, a spirit of healing reverberated throughout our first ever Art of Healing festival where we stood, arms in arms against gun violence and provided space for individuals to heal through pain through creative fun, music, and games.
With support from the community, colleague arts organizations, Manhattan District Attorney Cyrus R. Vance, and NYC Council Member Diana Ayala, the festival welcomed everyone. A new friend, Parkland High School survivor Aalayah Eastmond, came and spoke her peace about the tragic incident that transpired at her school.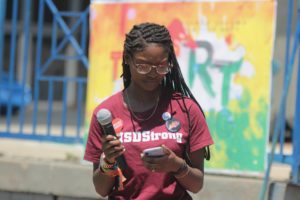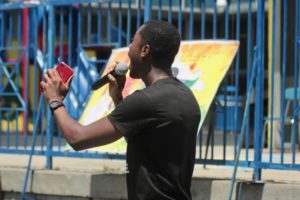 Parkland is one example why our friends and the East Harlem community banded together with NYPD and other city dignitaries to march against gun violence in our homes and to show love and compassion to one another.
Attendees made t-shirts, pillow cases, posters, music, dance, murals, face painting and more, showing their care for family members and neighbors, and fighting hate with love. The annual festival provides everyone an opportunity to engage creatively. Thrive Collective's executive director Jeremy Del Rio put it this way:
"The antidote to violence is creativity. It's much harder to destroy that which we have created…By awakening our creative imagination, art empowers us to see beyond present circumstances, heal through our pain, and create worlds that do not yet exist."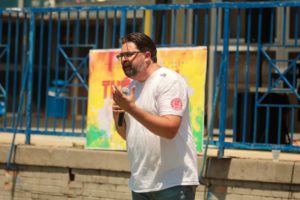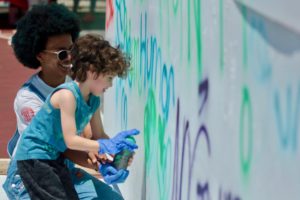 The Art of Healing Festival and this community are shining examples of how all New Yorkers can create safe and flourishing communities where neighbors can grow, heal, and express themselves. We are so grateful for the officials, artists, activists, churches, counselors, resource partners, volunteers, and neighbors who made the Art of Healing Festival possible, including: 100 Gates Project, Hi Arts NYC, Ad Hoc Art, DJ Trase, Children's Aid, Henry Street Settlement, Music on the Inside, Union Settlement, CMA, NY Go, Everybody Dance Now, Akil Dasan, RQTek, Damion B. Sanders, and our event producer and acclaimed emcee Randy Mason.
Enjoy our event Photo Diary by Chandler Simpson below.