With an enthusiastic group of students, interns, teaching artists, staff, and mentors in attendance, the New York City Council honored Thrive Collective on November 14 for its "exceptional work creating hope and opportunity through arts and mentoring in New York City public schools."
Calling Thrive's executive director Jeremy Del Rio, "a true champion," New York City Councilman Fernando Cabrera expressed amazement at how far the work has come since it was launched as 20/20 Vision for Schools in 2014.
"You all are an extraordinary organization," added Councilwoman Laurie Cumbo, urging Thrive's young people to do "extraordinary things" in the future that will help make the case for why programming like Thrive's is important: "because essentially it's saving lives."
"We know the very people that require the skills to see beyond current circumstances to create lives that don't exist yet are those who live in low-income situations. It is the arts and those creative experiences that awaken that imagination," Jeremy said, as he thanked the council for its ongoing investment.
"It is your visionary leadership that has propelled us to the point where we are today," he said, noting Cabrera's early support and Cumbo's at a critical juncture.
"Let's bring art back to schools. It's one of the injustices that is totally inexcusable in the art capital of the world," he concluded.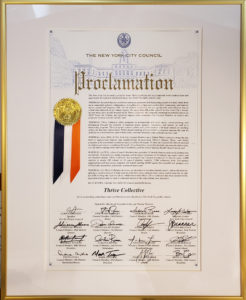 The resolution highlighted just how vital Thrive's work is, stating:
"Research has proven that art and music programs help keep young people in school, make them more committed, enhance collaboration, strengthen ties to their peers and to their community, and improve motor, spatial and language skills. At-risk students involved in art are significantly more likely to stay in school and ultimately to get college degrees. Yet more than 400 public schools in New York City's lowest-income areas have no arts program at all.

Thrive Collective, the nonprofit organization formerly known as 20/20 Vision for Schools, has garnered support from numerous City Council Members to restore arts programs in many schools citywide; and since 2014, 18 New York City Council Members have helped Thrive Collective bring the arts back to underserved students and neighborhoods by sponsoring Thrive's Murals, Music, and Media programs at 42 school and community spaces in all five boroughs.

To date, the Council has directly invested in students and seniors completing 46 murals, 45 students films, seven film festivals, ten concerts and recitals, over 60 ribbon cutting events and school assemblies, and the annual Queens HeART Beat Festival; and in FY20, a dozen Council Members have provided 18 awards that are collectively funding two art festivals, 18 murals, two media programs and two music programs at 18 schools, one senior center, and one business district.

Thrive Collective has leveraged City Council investments to directly serve 13,000 students in nearly 100 schools in 36 council districts; mobilize 2,500 volunteers from 120 partner organizations and businesses; complete 145 murals totaling 60,000 square feet of public art; produce over 150 festivals, assemblies, and events; and much more."
Including Majority Leader Cumbo and Member Cabrera, the Proclamation was co-signed by eighteen council members, including: Speaker Corey Johnson, Donovan Richards, Brad Lander, Justin Brannan, Carlina Rivera, Andrew Cohen, Mathieu Eugene, Mark Treyger, Adrienne Adams, Joe Borelli, Debi Rose, Diana Ayala, and Jimmy Van Bramer.
*Official NYC Council Photos by William Alatriste.