Your generous response to #GivingTuesday means a historic
holiday

match for

Thrive

Collective. Please help us maximize this opportunity.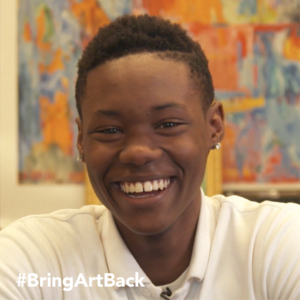 In the days after launching our Bring Art Back giving campaign on #GivingTuesday, more than 60 donors contributed over $3,600, mostly online. Thank you for your generosity!
In response, a donor pledged up to $36,000 – 10x the #GivingTuesday return – as a matching grant for new monies contributed or pledged by January 15th. This is by far our largest ever matching grant opportunity. Help us rise to the challenge.
No gift is too large or too small. Every dollar you contribute will be doubled up to $36,000 and directly supports art education and mentoring in New York City Public Schools. Victoria, a high school senior from the Bronx, describes the impacts of your giving like this:
"It's not every day where a kid like me who came out of a one-bedroom apartment with six brothers or sisters, sitting down thinking she's not going to get anywhere — it's not everyday where someone like Jeremy is going to come up to me and be like, I have a special role for you, and I want you to take part of it. I thank God that I'm able to get this opportunity. And I think that He sent people like them to come to me and pick me up out of what I've been through."
You can make your tax deductible gift online at ThriveCollective.org or by mail to 8225 5th Avenue #323, Brooklyn, NY 11209. Thank you for considering Thrive Collective as part of your year-end giving this year.