Nearly three hundred New Yorkers volunteered to help clean and refurbish Thrive Collective's new Harlem Hub home on Saturday and Monday to honor the Rev. Dr. Martin Luther King's National Day of Service weekend.
As our sponsor Clorox reminded us: "Cleaning isn't the opposite of dirty — it is the start of new possibilities. Clean is the beginning, what comes next is everything."
Harlem Hub: Before Pictures

Not only does clean make us happier, less stressed and more productive, it has a positive impact on empathy and our connections and willingness to help others in our communities.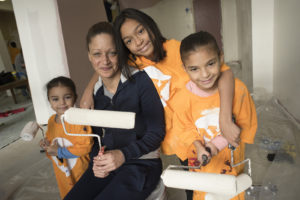 "Thank you for allowing my granddaughters and me to participate in the clean up. We had fun, and they enjoyed every moment. This was very good for me for I am going through a rough moment in my life and this took my sadness away for a bit. Thanks. It is an awesome place and people." – Cynthia S.
Research shows that clean spaces help children be more productive, and that cleaning itself teaches children critical empathy, compassion, and connection skills. The real power of clean is that it leads to greater empathy, stronger community connections and the start of new possibilities.
Day 1 photos by Jonathan Smith for Clorox.
Harlem Hub: MLK Weekend Day 1

By engaging people in the power of clean as a new beginning, we hope to show it isn't just about getting rid of dirt and mess. Cleaning is a way to let our family, friends and community know that we care by creating an environment where they can succeed.
See reflections from Manhattan District Attorney Cyrus Vance here.
Day 2 photos by Terrance Carney for Thrive Collective.
Harlem Hub: MLK Weekend Day 2