Case Study: Abounding Grace Ministries
Ed. Note: The story of PS 34′s partnership with Abounding Grace Ministries and Generation Xcel in Manhattan's Lower East Side remains the primary inspiration for 20/20 Vision's school engagement paradigm. Includes narrative, photos, and educational outcome data. This case study was originally published in June 2011, before 20/20 incorporated. // MULTIMEDIA
Inspiring a Movement
In July 1996 thirteen youths from Abounding Grace Ministries ("AGM") in Lower Manhattan established a neighborhood youth center. Despite drawing 75%-80% of its students from the public school across the street, their attempts to formalize a relationship with the school never materialized beyond the fact that they shared so many students and prayed consistently for the school.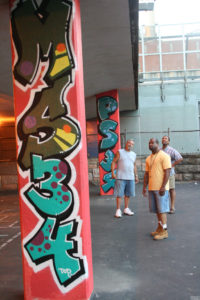 Then in 2006, AGM began interacting differently with the school. Their youth pastor Jonathan Del Rio and missions director Dorothy Rivera joined the middle school's faculty as dean and a math teacher. Jonathan had applied for a New York City Teaching Fellowship specifically with the goal of being placed in the school where he already knew dozens of students, and Dorothy transferred into the school from Brooklyn.
Six months later, the church asked the school administration what their needs were and how the church could serve the school. Painting projects, annual BBQs for 7th and 8th graders, annual breakfasts for the teachers and administration, two commencement addresses, and a middle school assembly have resulted so far, along with regular use of the school facilities for church and community events. Plans for a school-based mentoring program are in the works for 2011.
At the 2009 graduation, the school principal stated that more students were graduating than ever before, and that was by far the most well attended graduation in her tenure.
"That wasn't by chance," says Abounding Grace's Associate Pastor Louis Carlo. "I believe the regular prayer by the church and the relationships that have been developed have resulted in kids staying in school and parents being involved."

Beyond Pastor Carlo's personal belief that Abounding Grace is making a difference, the annual school report cards establish a direct correlation between improvements in student performance and the church's formal engagement with the school in 2006.   At the K-8 school, every grade level has improved in almost every subject matter that has been assessed from 2006 to 2009.
EDUCATIONAL OUTCOMES: CORRELATED IMPACT
School report cards substantiate net gains for every assessed grade level since the beginning of AGM's relationship with the school.
CORRELATION BETWEEN PARTNERSHIP AND PROFICIENCY GAINS at P.S. 34

Proficiency

Grade

Year
English
Math
Science

3

2006-2007

33%

70%

–

2007-2008

58%

82%

–

2008-2009

71%

95%

–

% Change

38%

25%

–

4

2006-2007

53%

72%

68%

2007-2008

36%

70%

36%

2008-2009

82%

86%

77%

% Change

29%

14%

9%

5

2006-2007

26%

51%

–

2007-2008

53%

74%

–

2008-2009

82%

84%

–

% Change

56%

33%

–

6

2006-2007

37%

47%

–

2007-2008

24%

46%

–

2008-2009

50%

56%

–

% Change

13%

9%

–

7

2006-2007

27%

46%

–

2007-2008

52%

76%

–

2008-2009

50%

66%

–

% Change

23%

20%

–

8

2006-2007

35%

31%

35%

2007-2008

25%

45%

44%

2008-2009

46%

61%

35%

% Change

11%

30%

0%

Source: NYC Department of Education, PS 34 Accountability and Overview Reports,
2006-2007, 2007-2008, 2008-2009 [Weblink].
BEYOND NUMBERS: A STUDENT'S STORY
Abounding Grace remains a prototype for the impact even a relatively small-to-midsize Stakeholder Organization can have as they mobilize resources and support for a school's most vulnerable population.  Beyond the school report cards, students like Miriam (name changed) embody the hopeful life change 20/20 represents.
Born and raised in the housing projects, Miriam lives in a father-absent, low-income home.  Family members have battled substance abuse, and underemployed relatives have been incarcerated.  Statistically, Miriam would have to emerge as an against-the-odds success story in order to overcome the risk factors conspiring against her.
She is doing exactly that.
Today a high school sophomore, AGM's academic enrichment programs helped increase Miriam's reading and math scores to proficient. Leadership development and community service opportunities expanded her vision for her future and an appreciation for the neighborhood around her.  Her AGM mentor has coached her through difficult family challenges, and encouraged her to pursue her love of art as a creative way to process emotions and contribute beauty to her community.  That mentor has committed to stay engaged in Miriam's life through college, if not longer.
Stories like Miriam's play out everyday as Community Stakeholders help engage students holistically in ways that schools, acting alone, cannot.